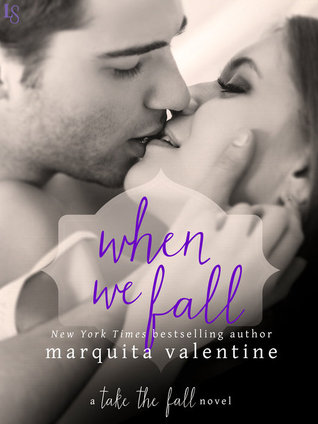 In the captivating new novel in Marquita Valentine's Boys of the South spinoff series—perfect for readers of Abbi Glines and Katy Evans—a small-town sweetheart takes a chance on the bad boy who's always been her hottest fantasy.
The last time Piper Ross saw her best friend's sexy older brother, Jase Simmons, he was being taken away in handcuffs. Seven years later, two things haven't changed: Piper is still head-over-heels in love with him . . . and Forrestville's chief of police—Piper's dad—still hates his guts. So when Piper sees a chance to get close to Jase, she makes her move—literally. As his new roommate, and as the office manager of his tattoo shop, Piper won't be satisfied until Jase knows that she wants to be his.
The quintessential good girl, Piper is pure temptation for Jase. The only reason he's always kept his distance is because she's the last person he'd ever want to hurt. But once he realizes that Piper is ready to take the leap, everything just makes sense. Suddenly Jase feels like a new man—until nasty rumors start swirling and Piper's heartless father stirs up even more trouble. Now Jase must convince Piper that she wasn't wrong about him . . . because falling in love never felt so right.
Purchase Link:
http://amzn.to/1HWLOyN
_____________________________________
CHECK OUT THE OTHER BOOKS IN THE SERIES:
✔ Take The Fall (#2: Rowan & Seth)
❈ Review Link: http://bit.ly/1O3PZZS
❈ Purchase Link: http://amzn.to/1Cx9OIx
✔ After The Fall (#3)
❈ Goodreads Link: http://bit.ly/1Cxe76E
❈ Purchase Link: http://amzn.to/1gvfoB1 (EDP: March 15, 2016)
I have pinned over Piper and Jase since meeting them in
Take the Fall
. Will one of them be brave enough to risk their hearts and finally leap into love?
Piper caught my attention in the first book, being the ultimate girl and good friend to Rowan. This time she stars in her own story and it was time for her to embrace her happy ending: only if she has enough courage to go for it. What I was happy about this story is the fact that Piper didn't change overnight. Yes, I might have some frustration over some of her decisions and the fears that was eating her up: but she had overcome each one of it one at a time. It was believable, after all, no one can change overnight. And her change: it was wonderful to watch. From being a good, obedient girl to someone brave enough to chase after what she wants. And what she wants was not necessarily easy. First there was Jase, then there was her freedom and it was her future. By the end of the book, you wouldn't believe what she was capable of. I love her!
To say that Jase past wasn't stellar was an understatement. He's an ex-con and there was no way he was good enough for him. Not to mention, the good girl was the chief of police's daughter. But he was given a chance when a life-changing moment for the pretty Piper turned his life around as well. Suddenly, this girl was his roomie and she was working for him at the same time. How can he avoid her when she was all he sees? Jase was an alpha, but oh so sweet. He always make sure that Piper gets what she needs, and it is not just in bed, ladies. He cares about her, big time. There were a lot of moments that you'd wish you had a Jase.
This took #worththewait to a whole new level. Knowing that this book was available in Netgalley had me excited I had to read this the moment it arrived into my Kindle. Trust me – the moment you started reading this, you won't have the heart to put it down. It has swoon factor all over the pages, not to mention the amazing characters who are finally getting their HEA: powerful romance and heated scenes that will ignite your readers! #Squirm
Rating:
Characters - 5
Plot - 5
Steam - 5
Cover - 5
Romance - 5
Pacing - 5
Overall: 5
Marquita Valentine
is the New York Times and USA Today bestselling author of the Holland Springs and Boys of the South series, having sold more than a quarter of a million books around the world. She's been called "one of the best new voices in romance" (Guilty Pleasures Book Reviews) and her books have been praised as "sexy, fun, and slightly addicting" (The Book Queen). When she's not writing sexy heroes who adore their sassy heroines, she enjoys shopping, reading, and spending time with her family and friends. Married to her high-school sweetheart, Marquita Valentine lives in a seriously small town in the south with her husband, two kids, and a dog.