This isn't just a two-year long one-night stand. It's my life.
This is my life. Our life. It isn't just some careless affair.
I've made the worst decisions a woman could, but I'll earn my second chance.
She can try keeping all the guilt for herself, but I'm just as much to blame.
Loving Casey wasn't my biggest mistake. Fighting it for so long was.
I'll show her how fearless our love makes me. I'll protect her torn heart.
He still has magic in his eyes. He's the man who makes me happy.
Her voice still brings me to my knees. She says my name like it's sacred.
I live for the day when I'm his. To take care of him. To love him the way he deserves.
I can't wait to be all she needs. I can give her a happy life, security and so much love.
Sometimes two ships never meet in the night, but ours did.
Sometimes the water is rough. It beats you all to hell until you have no choice but get stronger.
Our love story reads more like a tragedy, but to me it's clean and pure.
Let them point their fingers. Without a love like ours, they haven't really lived. I pity them.
I'm a cheating wife and a villain. I am his honeybee.
I'm a snake in the grass and I sleep best when I'm lying next to his wife.
I want to be his everything.
I'm nothing without her anyway.
This isn't even close to over.
It'll never be over.
Sail is the second book in the continuing Wake Series. For more information on the first book in the series see the link for Bait below.
___________________________________________________
CHECK OUT THE OTHER BOOK IN THE SERIES:
I love this book way, way more than I loved BAIT, because this time – Blake & Casey were fighting for their feelings. The fight was worth it. They were finally enjoying each other without that guilt feeling that has been nagging them (and me too).
Their secret was out – and it was finally a relief. Blake was finally getting braver to do what is right, and not what was expected of her. What surprised me the most in here was Grant. Never in my whole reading of BAIT did I imagine Grant would resort to that. But I guess, pain, and betrayal can push you off the edge. But hey, Blake came clean, she was finally honest about her feelings and was doing something about it.
I simply adore Casey. Yep, he can be all alpha, protective and possessive of her, but he waited (or he did try his best) and proved to Blake that he was more than a good lover. He was also a great friend. He tried it slow, putting off temptation and showing her another side of him, and it worked.
Their relationship grew, they grew as a person, as a couple and they were finally seeing the light at the end of the tunnel, but there's that certain twist that got my heart up on my throat. THAT COULDN'T BE HAPPENING. NOT. NOW. Not when everything is almost perfect. Arggghhhh.
This book was the perfect. I dreaded the start, but truly adored the ending. I couldn't stop reading, crossing both my fingers, praying that they'd finally have the happy ending they deserved and waited for. This proved that no one, or nothing can stop true love.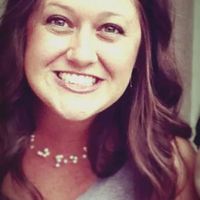 M. Mabie lives in Illinois with her husband. She is the author of the steamy comedy Fade In. Her sophomore release, Bait, is the first book in the angst-filled erotic Wake Series. She writes unconventional love stories and tries to embody "real-life romance."
She cares about politics, but will not discuss them in public. She uses the same fork at every meal, watches Wayne's World while cleaning, and lets her dog sleep on her head. She has always been a writer. In fact, she was born with a pen in her hand, which almost never happens. Almost.
M. Mabie usually doesn't speak in third-person either. She promises.