Clash: A Legal Affairs Story (Book #1 of Cal and Macy's Story), the first release in an all new Legal Affairs trilogy, is now available!
Get Clash now for just #99cents!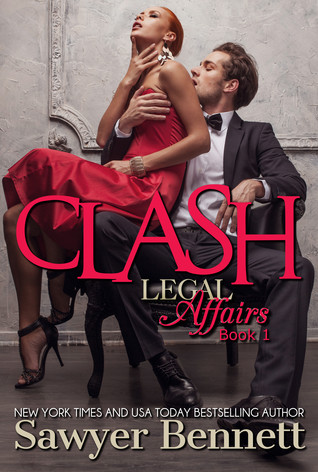 Clash (verb): to conflict, disagree.
It might be fair to say that I despise Macy Carrington. She slings insults with precision, not caring about the destruction she leaves in her wake. We clash in a battle of wills every time we're around each other, and yet… I still fantasize about being lodged deep within her body.
Clash (verb): to come together or collide.
I have never encountered someone that grates me the way Cal Carson does. His pompous, arrogant demeanor. A holier-than-thou attitude. Any interaction with "Saint Cal" ends in a verbal clash of epic proportions, and yet… there's no one I'd rather have in my bed than him.
Clash (noun): a battle, fight or skirmish.
Her breathy moans mingle with the sound of our flesh coming together, clashing with the silence that surrounds us, dispelling any notions I once had about Macy Carrington.
Maybe I can break down her walls if we can call a truce to this battle.
He whispers filthy words in my ear, provoking feelings I never knew were possible. The burning desire in his touch clashes with everything I once believed about Cal Carson.
Maybe he can be the balm I need to soothe my broken soul, if only temporarily.
Get ready for Macy & Cal.
It's going to get soooo hot in here.
Panties not needed. Slide 'em off.
Because you are going to get very, very wet.
Their banter was pure foreplay. Sexual tension was palpable, even their closest friends knew it. But they never acted on it – until NOW. Until Macy finally made her move, and Cal was thrown into the loop and she just ruined him for the rest of the woman population. (Poor us!!)
Macy was promiscuous, and I'm not really that fond of those kinds of people – but there was something in her that made me like her. She was honest, she grab what she wants and isn't sorry for it. If she wants a second-time with him, she was going to get it. There was so much more to Macy than what she actually projects, and I wanted to know her secrets and what's underneath that strong, impenetrable façade she sports.
Not if he can help it. Cal was caught off-guard and he didn't like the feeling. He tried to fight it, to avoid her – but it seemed destiny wanted them to be together when his partner assigned him her case. Uh-oh. Things are going to get a little more interesting…
Sawyer Bennett did it once again. Hot, sexy, steamy with underlying mystery and romance. It's something that will provoke your thoughts, get you warm and fuzzy all over and have you swooning and swearing for the next book in the series. I was totally knocked off – love every page.
Get Clash now for just #99cents!
New York Times and USA Today Bestselling Author, Sawyer Bennett is a snarky southern woman and reformed trial lawyer who decided to finally start putting on paper all of the stories that were floating in her head. Her husband works for a Fortune 100 company which lets him fly all over the world while she stays at home with their daughter and three big, furry dogs who hog the bed. Sawyer would like to report she doesn't have many weaknesses but can be bribed with a nominal amount of milk chocolate. Sawyer is the author of several contemporary romances including the popular Off Series, the Legal Affairs Series and the Last Call Series.
Connect with Sawyer:
Facebook
|
Twitter
|
Tsu
|
Instagram
|
Goodreads
Sign up for Sawyer's newsletter
http://sawyerbennett.com/signup/