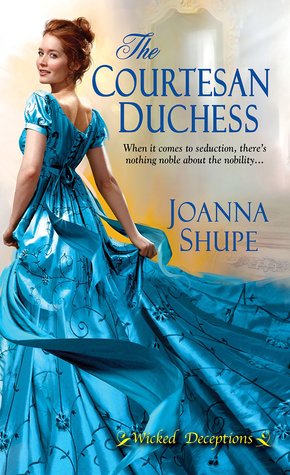 How to seduce an estranged husband—and banish debt!—in four wickedly improper, shockingly pleasurable steps...
1. Learn the most intimate secrets of London's leading courtesan.
2. Pretend to be a courtesan yourself, using the name Juliet Leighton.
3. Travel to Venice and locate said husband.
4. Seduce husband, conceive an heir, and voilà, your future is secure!
For Julia, the Duchess of Colton, such a ruse promises to be foolproof. After all, her husband has not bothered to lay eyes on her in eight years, since their hasty wedding day when she was only sixteen. But what begins as a tempestuous flirtation escalates into full-blown passion—and the feeling is mutual. Could the man the Courtesan Duchess married actually turn out to be the love of her life?
"The powerful passion in this riveting tale of betrayal and forgiveness will knock your socks off!" -- NY Times bestselling author Sabrina Jeffries
___________________________________________________
CHECK OUT THE REST OF THE SERIES:
The Harlot Countess (Book #2:Maggie & Simon)
The Lady Hellion (Book #3:Sophia & Damien)
The anticipation had me spending the wee hours of the morning glued to my Kindle, waiting for the bomb to drop and cause havoc when the truth finally comes out.
Desperation makes people do strange things. I can't believe that a proper duchess like Julia would employ a great Cyprian to teach her some pleasurable tricks to seduce her estranged husband she has not seen for eight years.
And she's a fast, eager learner and indeed she had been taught well. Posing as a courtesan and with the help of her childhood friend, she went to Venice and located her husband with the ultimate goal of seducing him and producing an heir to secure her future. After all, she deserves this after eight years of being ignored.
What she didn't expect was to like her husband, to get addicted to his touches, to crave them and to eventually fall for him. She knew the repercussions of her actions, and it would cost her a lot. Before he could ever find out, she ran away.
Secrets could only last long. When Colton finally knew that he's been duped by none other but his wife, he finally decided to go back to London and have his revenge.
Until when can you be angry? It was heartbreaking to see him ruled by anger, and Julia was done trying to explain herself. Would they be able to give what they have a second chance before it's too late? Or would anger and deceit tear them apart?
It's a story of love, deceit and forgiveness, constantly loving and hating each pages, experiencing all the emotional rollercoaster that will every reader hooked to every pages. The Courtesan Duchess is my first Joanna Shupe novel, and I was completely blown away!
Purchase Links: