Crashing Into Love
Love in Bloom #20: The Bradens # 12
By: Melissa Foster
Releasing March 17th, 2015
Self-Published
Fiona Steele has a great career, strong friendships, and a loving family. To an outsider, her life appears happy and fulfilling. But the one thing that's missing is true love, and the only man Fiona wants is the one she can't have, sinfully handsome and seductively intense Jake Braden—the man whose heart she broke, which she has regretted ever since.
As an LA stuntman, Jake Braden's at the top of his game. He's hired for all the best movies, hooks up with the hottest women, and lives an unencumbered lifestyle where his needs come first—and where he doesn't have to examine his life too closely. Except when he visits his family in his close-knit hometown of Trusty, Colorado, where he spends his time avoiding Fiona—the only woman who knows who he really is.
When Fiona's best friend is hired to act in Jake's movie, Fiona jumps at the chance to try to win him back. There's no denying the white-hot attraction burning between them. With every encounter, Fiona hopes Jake can't resist falling back into the love they once shared. But her well-orchestrated rendezvous doesn't go over well with the brooding heartthrob. Living in the fast lane is perfect for a guy who's buried his emotions so damn deep he's not sure he can remember how to feel—and he's not sure he ever wants to.
Finally, here it is – Fiona and Jake: their second chance. Would they grab it? Or would they just let it flow away?
Fiona has it all – success in career, great friends and wonderful family. She might appear happy, but there's always something missing in her life. And it was Jake Braden. Now, if she can just break the walls that he had built around his heart ever since she left it broken.
He didn't want to go home. Trusty reminds him of the one thing that he couldn't have: Fiona. He has everything anyone could wish for: he's in the best movies, and hooks up with the most beautiful women. With his looks and his career, not to mention his money: he can have everything he wants. Well, except her. Fiona had already broken him, and he wouldn't let her do it again. But when his family intervenes, and he started to see the last woman he wanted to see in Trusty – life gets a little complicated.
She wanted him back, whatever it cost. Sure the boy she fell in love with is still there, but there is so much more to Jake now than in the past. Can she handle the NEW him? The chemistry is still there, it never faltered, it just grew dangerously strong as the years passed by. After all, true love never dies.
Melissa Foster saved the best for last. I have been dying to read all about Fiona and Jake ever since the series about this side of the Bradens. I knew how Jake had been hurt and so not over his old flame. I wonder what happened to them. Curiosity was indeed killing me.
She fed that curiosity, and fed it well. Crashing Into Love is a classic second chance romance that will make you believe that love is indeed sweeter the second time around. That, love can indeed forgive and forget, that love can grow despite the distance, and true love is never lost.
Purchase Links:
❈ Amazon Kindle ➙
http://amzn.to/1BQjM4Q
❈ B&N ➙
http://bit.ly/1xbcEjP
❈ iTunes ➙
http://apple.co/1bdvKf8
❈ Kobo ➙
http://bit.ly/1EsYWbs
"Melissa Foster is a wonderful connector of readers and books, a friend of authors, and a tireless advocate for women. She is the real deal"-- Bestselling Author Jennie Shortridge
"What sets Melissa Foster apart are her compelling characters who you care about... desperately. This is psychological suspense at its most chilling. I dare you to read the first chapter and not be hooked." International bestseller, M.J. Rose
Melissa Foster is an award-winning, International bestselling author. Her books have been recommended by USA Today's book blog, Hagerstown Magazine, The Patriot, and several other print venues. She is the founder of the Women's Nest, a social and support community for women, the World Literary Café. When she's not writing, Melissa helps authors navigate the publishing industry through her author training programs on Fostering Success. Melissa is also a community builder for the Alliance for Independent Authors. She has been published in Calgary's Child Magazine, the Huffington Post, and Women Business Owners magazine.
Connect with Melissa:
Website
|
Facebook
|
Twitter
|
S
ocialnetwork for women
|
WorldLiterary Café
|
FosteringSuccess
|
FacebookMelissa Foster
|
Goodreads
The Braden Cousins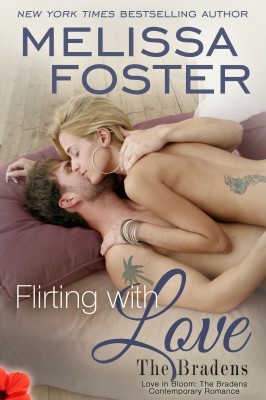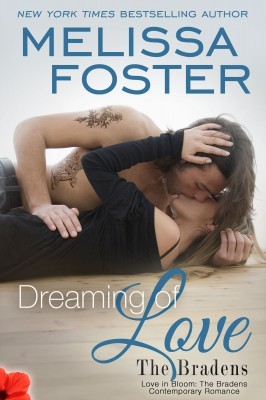 Taken by Love
(#1: Luke & Daisy)
Fated for Love
(#2: Callie & Wes)
Romancing My Love
(#3: Pierce & Rebecca)
Flirting With Love
(#4: Ross & Elizabeth)
Dreaming of Love
(#5: Emily & Dae)
Crashing Into Love (#6)