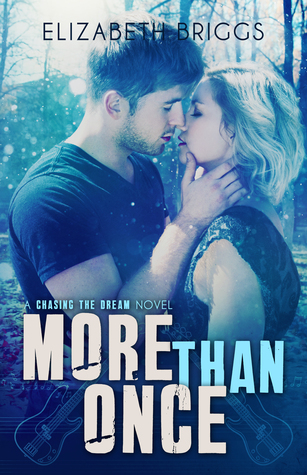 She's trying to be good. He loves it when she's bad.
Andrew West is done being the nice guy. After a marriage proposal gone wrong, he's started over in a new city and he's never risking his heart again.
Becca Collins is done being the bad girl. After quitting the band she played bass for, she's going to prove to her family that she's really changed.
When Becca's dumped by her boyfriend and fired from her job on Christmas Eve, all seems lost, until she runs into a former one night stand—Andrew. To impress her parents, Becca convinces him to pretend to be her perfect boyfriend for their holiday dinner.
After Andrew shows Becca he's all bad boy in the bedroom, neither wants to pretend anymore. But when Becca's invited to rejoin her band for a show and Andrew's forced to face his ex, they both wonder if they're ready to take a leap again—or if they're doomed to fail in life and love a second time.
_____________________________________________
CHASING THE DREAM SERIES:
More Than Comics (#2)
More Than Fasion (#3)
★ Purchase Link -
http://amzn.to/1lXa8c3
Becca is trying so hard to change. To be good, and to turn her life around. But at Christmas eve, she was dumped by her boyfriend and fired from her job. She couldn't just come home to their family Christmas dinner a loser. Good thing, she came across Andrew West. Her one-night stand who ruined her for any another man. He agreed to pretend to be her boyfriend to save her from disappointing her family.
Andrew West used to be the good guy. But girls doesn't want good guys. After a rejected marriage proposal, he started over in a new city and promised himself not to risk his heart ever again. But he came across Becca once again, and his heart can be in jeopardy. Can he finally get over his ex and allow Becca to destroy the walls that surrounds his heart?
Can they both risk their hearts for their happy-ever-after?
The romance of the story wasn't forced. It might started out differently, but the I-love-you's came a little later. They didn't dive right in because they knew they weren't ready. They had to make sure, the past wasn't a part of their future anymore. The wait was gruesome, and it hurts like hell at some points, but them getting together was worth it.
It wasn't just those sexy scenes that made me hooked in this novel and finished this one in one sitting. Although, this one is the hottest Chasing the Dream novel I read. It was the fact that this book was about second chances and redemption of the characters you didn't think you could love but ended up stealing your hearts. This book is just in time for the holiday seasons and has enough steam to warm the cold nights.
Elizabeth Briggs is a Young Adult and New Adult author who lives in Los Angeles with her British husband and a bunch of fluffy white rescue dogs. She's a guitar-playing geek who loves books, rock music, and video games, goes to Comic Con every year, and is still hoping to be a Jedi when she grows up.
Elizabeth currently works with WriteGirl to mentor at-risk or pregnant teen girls in writing, to help them get through high school and into college. She also volunteers with Bichon FurKids to help rescued dogs find a new, loving home. She previously worked as an intern for literary agent Jill Corcoran of Jill Corcoran Literary Agency, an intern for Entangled Publishing, and an editor for Curiosity Quills Press.
Elizabeth is represented by Kate Schafer Testerman of KT Literary and is a member of SCBWI and RWA.