Buy Links: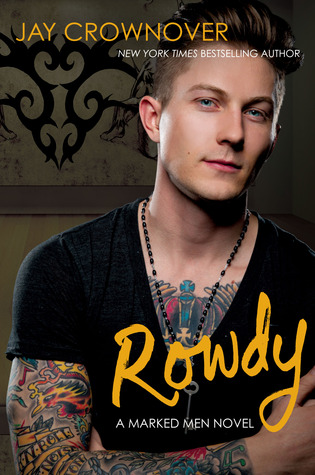 The New York Times and USA Today bestselling Marked Men series continues with this sizzling, sexy story of love, heartbreak, fate, and second chances.
After the only girl he ever loved told him that he would never be enough, Rowdy St. James knocked the Texas dust off his boots and set out to live up to his nickname. A good ol' boy looking for good times and good friends, Rowdy refuses to take anything too seriously, especially when it comes to the opposite sex. Burned by love once, he isn't going to let himself trust a woman again. But that's before his new co-worker arrives, a ghost from the past who's suddenly making him question every lesson he ever learned.
Salem Cruz grew up in house with too many rules and too little fun—a world of unhappiness she couldn't wait to forget. But one nice thing from childhood has stayed with her; the memory of the sweet, blue-eyed boy next door who'd been head over heels in love with her little sister.
Now, fate and an old friend have brought her and Rowdy together, and Salem is determined to show him that once upon a time he picked the wrong sister. A mission that is working perfectly—until the one person that ties them together appears, threatening to tear them apart for good.
Buy Links:
Amazon -
http://amzn.to/11iwvOT
B&N -
http://bit.ly/1sFExwS
iTunes -
http://bit.ly/11iwJ8G
Kobo -
http://bit.ly/1sBGZD7
IndieBound -
http://bit.ly/ZC6ady
Other -
http://bit.ly/1r11PH8
"I always thought it was the firsts that matter, but now I know that it's the lasts that will stay with you."
Jay Crownover's tradition of making novels starring tattooed, sexy and young men continues. This is something I have been looking for ever since the girl from Vegas came into the picture and I have seen those piercing blue-eyed hottie in the cover.
Rowdy was orphaned in a young age and was put into the system. He was used of being alone, until he met the Cruz sisters. Suddenly, he wasn't alone in the world anymore. He has them. They have become good friends. But it didn't take that long for one of them left him, and the other one rejected him.
His broken heart and painful rejection had drove him to Denver, doing something he loved the most – make a living out of something he loves to do: ART. But when it comes to the opposite sex, he avoids taking things seriously. He has good friends whom he considered family and he loved his life now. What more can he ask for? What he didn't expect was for one of those Cruz women to step back into his life and became his new coworker.
Salem Cruz grew up with rigid rules. Her father was a pastor who had his own set of rules, and her mother would just follow. All she wanted to do was just to leave the house, and enjoy her life – but when she left, she didn't just leave her family and sad life behind, she left a broken little boy who had been head over heels in love with her little sister.
"I've loved him in many different ways since he was ten years old."
Now that they're back together, she was determined to show him that she's here to stay, and she wasn't going away. She will show him he had picked the wrong sister then – and everything was working out properly. They were having the time of their lives until the past came strutting down in their lives and threatens to tear them apart.
"There's always a first girl, Rowdy, but there is also the girl that is going to come after her until you get to the last girl. The last girl is the one that really matters."
He thought Poppy was his first love, and it was tearing Salem apart. She was unsure that if Poppy comes back, he'd stay with her or if he'd be back with her sister. She heard his side, and he was keeping his mum about Poppy's. Her uncertainty was sort of tearing them apart – good thing that Rowdy was willing to show her how much she meant to him. That he may not have been his first, but she'd be his last – and it is the one that matters.
I was happy for Rowdy – after what he has been through when he was young and the heartbreak he had suffered, he found his friends who became his family in the end. He had some trust and abandonment issues, but I was happy he wasn't stubborn enough to shut out those who came back into his life, and those who suddenly came into his life.
I like Salem a lot, even the rest of the Marked Women like her. She's a lot like Cora, but down by one notch when it comes to feistiness. She says her own mind, she never runs out of brilliant ideas – and you will truly understand why Phil wanted her to work for him besides of Rowdy.
I thought I was going to hate Poppy. I was ready to, but when she came into the picture, and finally shed life on her side of the story- And there was Sayer, a new woman in the group, who brought in a
big surprise with her.
Promises of twists, second-chance romance, surprises and not to mention sizzling scenes will make you pant. Another great read from Jay Crownover!
This is a story of love, second chances and destiny. She may have left him behind, and tried to spread her wings on her own, but in the end – fate found ways to bring them together. Shows that sometimes LASTS are more powerful than FIRSTS.
This novel brings out the anticipation for Asa's story, and I'm sure like me – you couldn't wait to read it! Finally the bad boy is going to have his happy ending!
"When all you make are mistakes you learn how to help other people avoid them."
•Complimentary Copy was given in exchange for an honest review.•
And don't miss the previous books in The Marked Men Series!
★Marked Men Series Reading Order &Purchase Link★

Jay Crownover is the New York Times and USA Today bestselling author of the Marked Men series. She also introduced the dark and sexy world of The Point in a new series this last summer starting with BETTER WHEN HE's BAD. Like her characters, she is a big fan of tattoos. She loves music and wishes she could be a rock star, but since she has no aptitude for singing or instrument playing, she'll settle for writing stories with interesting characters that make the reader feel something. She lives in Colorado with her three dogs.
Connect with Jay: Website

|
Blog
|
Facebook
|
Twitter |
Goodreads