Purchase Link:
__________________________________
Lost & Found Duology
Book #1: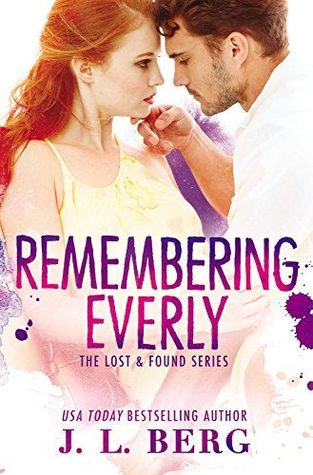 After a stunning cliffhanger ending in Forgetting August, USA Today bestselling author J.L. Berg delivers the happily ever after that fans have been waiting for in the sequel, REMEMBERING EVERLY.
He's forgotten his past, but it hasn't forgotten him. After losing two years of his life trapped in a coma, August Kincaid will do anything to win back the love of his life. But his past threatens to destroy his second chance at happiness, it's Everly who is in danger of paying for his crimes.
Purchase Link:
__________________________________
Lost & Found Duology
Book #1:
The long wait is over!
I was left with a really to-die for cliffhanger that had me off the edge of my seat. Nevertheless, it kept me excited for the next and final book in this duology. Yes, the first book had my blood powerfully pumping into my veins after all the discovery and the memory coming back to August.
Once again, Everly ran back to Ryan. August preferred solitude after everything that was happening thinking that it could save them all, if not just Everly. And he thought it was enough. Until Trent has something else up his sleeve that they haven't seen coming.
Everly was getting married soon and August was still stubborn to let go of her. Will they have their happy ending?
We get to know more about August and about his past as his memories begun to resurface one by one. Some of it good but most of what he remembered shed light to what really happened that night and the circumstances that surrounded it. We might have some nagging thoughts about him and his past or about Trent. Is he the good guy? Or is he one of the bad?
As for Everly, I learned to like her in this novel. She finally became honest with herself and what she wants. It took some time, and some mistakes on her part. But fate, whatever happens, when you two are meant for each other, will move mountains for the two of you to be together again. In this case, it took a lot of sacrifice, honesty, and not to mention danger.
Just like the first book, this one will keep you awake in the wee hours of the morning. The thrill and the suspense just doubled, and I couldn't wait to know what's going to happen to everyone in the story. There are some surprising twist even I didn't see coming (both good and bad), and it was such a great relief, that after the gruesome, heart-wrenching journey the future seemed to be brighter for the both of them. It wasn't easy for the both of them, but it was worth it. I do really love the ending. Everyone got what they deserved!
J.L. Berg is the USA Today bestselling author of the Ready Series. She is a California native living in the beautiful state of historic Virginia. Married to her high school sweetheart, they have two beautiful girls that drive them batty on a daily basis. When she's not writing, you will find her with her nose stuck in a romance novel, in a yoga studio or devouring anything chocolate. J.L. Berg is represented by Jill Marsal of Marsal Lyon Literary Agency, LLC.