Grab Your Copy Today!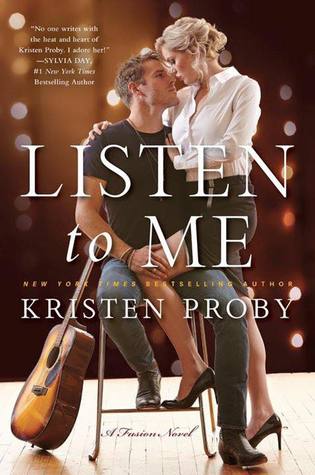 In New York Times and USA Today bestselling author Kristen Proby's brand new series, five best friends open a hot new restaurant, but one of them gets much more than she bargained for when a sexy former rock star walks through the doors—and into her heart.
Seduction is quickly becoming the hottest new restaurant in Portland, and Addison Wade is proud to claim 1/5 of the credit. She's determined to make it a success and can't think of a better way to bring in new customers than live music. But when former rock star Jake Keller swaggers through the doors to apply for the weekend gig, she knows she's in trouble. Addie instantly recognizes him—his posters were plastered all over her bedroom walls in high school—he's all bad boy...exactly her type and exactly what she doesn't need.
Jake Keller walked away from the limelight five years ago and yearns to return to what's always driven him: the music. If he gets to work for a smart-mouthed, funny-as-hell bombshell, all the better. But talking Addie into giving him the job is far easier than persuading her that he wants more than a romp in her bed. Just when she begins to drop her walls, Jake's past finally catches up with him.
Will Addie be torn apart once again or will Jake be able to convince her to drown out her doubts and listen to her heart?
Purchase Links:
❈ Amazon Kindle ➙
http://amzn.to/1XqFR2g
❈ B&N ➙
http://bit.ly/1NEGxKY
❈ iTunes ➙
http://apple.co/1MD5jv8
❈ Kobo ➙
http://bit.ly/1Ha3KrK
Jake is easily likable. He used to be famous, but he walked away from the lime light after a tragedy. He still loves music and continues to work with it, but he no longer since. Then one night, he just grabbed the microphone in Seduction, and was lured into his old love. It didn't hurt that he gets to work with a woman who makes him feel alive again.
Addison has been burned before – by bad boys who are musicians. There was no way she was going to risk her heart once again. Not especially with someone who was as famous as Jake, and who's face adorned the posters on her walls growing up.
If Jake was really determined to have Addison, Addison was fighting tooth and nail to resist him. If you read Jake, and how he tries to woo and tease her, you'd know this wasn't an easy feat. Just as she was lowering his walls, Jake's past caught up with him.
Will both of them be able to let go of their past and take a risk for their future?
This series is off to a promising and exciting start with its first book:
Listen to Me
. This is Kristen Proby and I haven't been disappointed in any of her books. This won't be the first. I was glad it met my expectations. It was a great, amazing read: right amount of steam, romance and drama.
Rating:
5 Stars
EXCERPT
"'In summary,'" Cami, one of my very best friends, and a business partner, reads from the Portland Tribune, "'Seduction is a restaurant unlike any other I've experienced. The food is delicious, the wine bar impressive, and the ambiance so sexy, it will take your breath away. I highly recommend this restaurant for your next date night.'"
"I want to send that reviewer flowers," Mia says with a wide smile. "Who would have thought that just six months after opening this place, we'd already have a review like this?"
"Well, it's a no-brainer that they'd love the food," I reply, and reach for the paper so I can read it again for the fifteenth time. "You're a genius in the kitchen, Mia. We've known that since we were in high school."
"I still get nervous, especially now that I never know who the customers are going to be. We didn't even get a heads-up that this guy was going to be here." Mia bites the cuticle on her thumb and frowns. "Maybe I should add to the menu."
"The menu is perfect," Cami replies with a shake of her blond head.
"He loved us."
We smile at each other, and finally I do a little happy dance in my seat. We haven't opened for the day yet. Kat and Riley, the final two business partners in our fivesome, haven't arrived. But Mia, Cami, and I have read this article over and over again, smiling and dancing.
Rejoicing.
Because damn it, we've worked our asses off since we opened the doors six months ago. All of our eggs are in this basket. We can't fail.
And we won't.
We hear the front door open and close, and I expect to see either Riley or Kat, but instead Jeremy saunters into the dining room, looking all rumpled and messy from sleep. His eyelids are still heavy. His chin is scruffy. His blond hair is standing on end, still in chaos from my fingers last night.
Jesus, this man makes my hormones work overtime.
He grins and kisses my head, then picks up my coffee and sits next to me.
"Why are you here?" Cami asks with a frown. "I'm in too good of a mood to have to pretend to like you."
I glare at my best friend, but she just shrugs.
"My girlfriend is here," Jeremy replies and sips my coffee. "I missed her."
"Please," Mia whispers with a roll of the eyes. My friends used to like Jeremy, in the beginning, but now they make it no secret that they don't care for him. But they are just overprotective. They don't want to see me get hurt. Sure, he's a musician. Not a particularly gifted one at that, but he does well, booking gigs for his band, Hells Roses, regularly.
And, oh my God, what the man can do in the bedroom should be a felony. He makes me laugh, and despite his arrogant persona around everyone else, he has moments of real vulnerability and sweetness when we're alone.
Is he the one? Probably not, but I'm pretty much convinced that the onewas invented by romance novelists and Disney. "Be nice," I snap and continue to read the paper. "We got a kick-ass review in the Tribune," I inform Jeremy with a grin.
"Of course you did," he replies and kisses my cheek. "Are the music reviews in there too?" He snatches the paper and shifts through the pages, then reads through the reviews of the music and club scene in Portland. "Not one fucking mention?"
Cami catches my gaze, then crosses her eyes in annoyance. I simply shrug. He's not in the restaurant business. He wouldn't understand what a big deal this is for us.
"I've been thinking," I begin, and lean my elbows on the table. "Now that business is picking up, I think we should add live music on the weekends."
"Sorry, cupcake," Jeremy says with a sigh. "We're booked."
Thank God. Jeremy's band isn't the one I'd want for my place. But rather than jab at his ego, I simply smile and kiss his shoulder.
"I know, babe. But I'd still like to bring in someone.
Maybe just a one-person act, just a microphone and a stool, you know?"
"We can afford it," Cami replies with a thoughtful frown. Cami is our chief financial officer. She handles all things money, and she's a wizard at adding up figures in her head. "Who are you thinking?"
"I don't know." I reach for my coffee mug and frown when I see that Jeremy has sucked down every last drop. "Babe, will you please run over to Starbucks and get us more coffee?"
"I forgot my wallet," he replies with a scowl. I reach into my bag and pass him a twenty. "You got it."
"Thank you."
"Oh, and one place you might look for a musician," he adds as he steps away from the table, "is the open-mic night at Crush this Saturday. There are usually some good acts there. I'd bet you'd find what you're looking for."
I grin at my sexy boyfriend and blow him a kiss. "Thank you."
He winks and saunters out of the restaurant. When the door closes behind him, Mia shakes her head at me. "Seriously?"
"Open mic night is a brilliant idea," I inform her. "That's not what she's talking about," Cami says. "Jeremy is a douche bag."
"He is not." I roll my eyes and sit back in my chair. Okay, maybe he has douchey moments. "He's sweet. And sexy."
"And mooching off of you. His wallet was in his back pocket," Mia argues. "And I'll bet all of this month's chocolate budget that he's staying with you too."
"His roommate moved out, and he couldn't afford his place alone."
"Addie." Cami reaches for my hand. "You are not a doormat."
"He doesn't treat me like a doormat."
"Yes. He does." Mia sighs and takes my other hand. "You deserve so much better."
"I love you both," I begin, my stomach heaving. "I know you just want to protect me. Jeremy is a good guy. I like him."
"Okay." Cami sips her coffee, then shrugs one slim shoulder. "But when he breaks your heart, we'll be here."
"Let's talk about this open-mic night. Who's going with me?"
Mia and Cami exchange glances.
"I'll be working," Mia says. "I have some new

Saturday

night specials I want to try."
"I don't want to," Cami says honestly. "I trust you to find exactly what we need."
"I'll take Kat." I chew my lip, ideas already swirling in my head. "She's a good judge of these things."
"Good idea."
The door opens again.
"Oh good. Mr. Wonderful is back," Cami mutters.
New York Times and USA Today Bestselling author Kristen Proby is the author of the bestselling With Me In Seattle and Love Under the Big Sky series. She has a passion for a good love story and strong, humorous characters with a strong sense of loyalty and family. Her men are the alpha type; fiercely protective and a bit bossy, and her ladies are fun, strong, and not afraid to stand up for themselves.
Kristen lives in Montana, where she enjoys coffee, chocolate and sunshine. And naps.