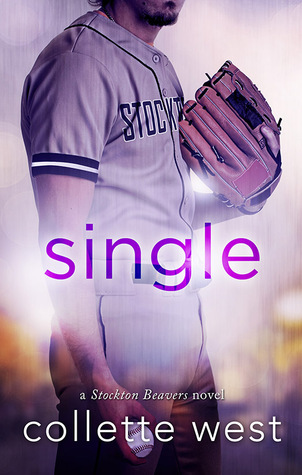 Underdog Luke "Single" Singleton is yearning to make a comeback. After getting hit in the neck with a pitch—an injury that nearly cost him his life—he has one last chance to play for his hometown team, the Stockton Beavers. But his mom has Alzheimer's, and he's all she has to depend on. How can he pursue his career, much less someone special?
Personal care aide Roberta Bennett is done dating baseball players. Having had her share of heartbreak, she heads to Stockton hoping for a fresh start. But after she finds Luke's mom outside, lost, and alone, she can't refuse when he hires her on the spot. Unbeknownst to Luke, Roberta is all too familiar with the violent tendencies of the pitcher who hit him.
Now that they're living under the same roof, the last thing either of them is looking for is a relationship. But it's not long before they find themselves drawn to each other. And right when Luke is thinking about finally making a change to his single status, a secret from Roberta's past emerges with the power to tear them apart.
I didn't realize I can like Roberta, not until I read SINGLE.
It was like seeing another side of her, a side that you'd be surprised, you'd love and you'd finally understand. This was one of the things you should look forward in Collete West's new New York King's Novel. She might not have a stellar past, and yes, she hooked up with some of the Kings – but that's just the tip of the iceberg. There is more to her than that part of her past. I can finally understand why she doesn't easily open herself up to others. Her compassionate and caring side that would make you love her in no time. I can't believe I'm saying this right now, but I was glad she had her happy-every-after, and I was glad it was Luke.
And Luke- how can you not love him? He's pretty much amazing, and he'd do everything for his mom and for other people. I love how he tried to take care of his mom, how he worked his a** off to make sure his mom can have the best possible care. I love the way 'handled' Rebecca – he didn't pressure her, he allowed her to take her time for her to open up to him. He's easily lovable – he was thoughtful, understanding and caring. Who needs an alpha-male when you have someone like this guy? He's way different from the usual lead, and he was a breather.
It's great to see a new group of men with different characters. This was a great book to start off Collete West's new Series: Stockton Beavers. I enjoyed reading this book, and I'll have to say that I am excited to read about each one of them.
Collette

West grew up as somewhat of a jock-nerd hybrid. Entering the world three weeks premature, her dad nearly missed her birth because he had seats behind the dugout for a sold-out, highly-anticipated match-up between two of baseball's biggest rivals. Not to be outdone, her book-loving mom taught her how to read by the time she was three. A love of the game coupled with an appreciation for the written word were instilled in

Collette

's impressionable brain from a young age. No wonder her characters believe in the philosophy: sports + romance = a little slice of heaven.
Splitting her time between the Pocono Mountains and Manhattan,

Collette

indulges her inner fangirl by going to as many games as she can from hockey to baseball and downloading every sports romance novel in existence onto her iPad. When she's not clicking away on her laptop, she enjoys walking her dog in Central Park, satisfying her caffeine craving at the Starbucks on Broadway and keeping an eye out for Mr. Right. But above all, she loves dishing with her readers.