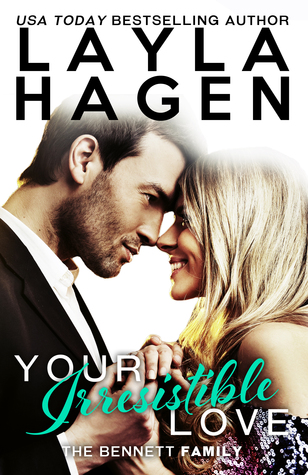 Sebastian Bennett is a determined man. It's the secret behind the business empire he built from scratch. Under his rule, Bennett Enterprises dominates the jewelry industry. Despite being ruthless in his work, family comes first for him, and he'd do anything for his parents and eight siblings—even if they drive him crazy sometimes. . . like when they keep nagging him to get married already.
Sebastian doesn't believe in love, until he brings in external marketing consultant Ava to oversee the next collection launch. She's beautiful, funny, and just as stubborn as he is. Not only is he obsessed with her delicious curves, but he also finds himself willing to do anything to make her smile.
He's determined to have Ava, even if she's completely off limits.
Ava Lindt has one job to do at Bennett Enterprises: make the next collection launch unforgettable. Daydreaming about the hot CEO is definitely not on her to-do list. Neither is doing said CEO. The consultancy she works for has a strict policy—no fraternizing with clients. She won't risk her job. Besides, Ava knows better than to trust men with her heart.
But their sizzling chemistry spirals into a deep connection that takes both of them by surprise. Sebastian blows through her defenses one sweet kiss and sinful touch at a time. When Ava's time as a consultant in his company comes to an end, will Sebastian fight for the woman he loves or will he end up losing her?
Purchase Links:
Amazon US:
http://amzn.to/231x9vz
Amazon UK:
http://amzn.to/1P2oRQ2
Amazon AU:
http://www.amazon.com.au/dp/B01AL3GQRQ/
Amazon CA:
http://www.amazon.ca/dp/B01AL3GQRQ/
Amazon DE:
http://www.amazon.de/dp/B01AL3GQRQ/
Apple ibooks:
http://apple.co/1OReI6S
B&N (Nook):
http://bit.ly/1S8qJH9
Kobo:
http://bit.ly/1Q8b3m1
Oftentimes, the best and delicious things are worth the wait, and if you can't wait, then it's worth sneaking for. I loved Layla Hagen ever since reading her Lost Series, but this one is more different. I guess it's much sexier and easier on the heart.
What happens when two workaholics and chronic hard workers meet?
Ava is a jetsetter. Her work allows her to fly, leave on a suitcase and travel freely. Now if she can only concentrate on her job, not do her boss because it would violate her contract, get paid and use the payment for her soon-to-be-apartment in New York. After one job, she was assigned to another, and her she came across the Bennetts, and it felt like home to her. She was welcomed whole heartedly, and after losing her mom, it was the closest thing she has to a family.
But how can you resist someone like Sebastian Bennett?
Not only that he was oozing with hotness and sexiness – but this guy is funny, smart and loves his family. He didn't believe in love, and all the hearts and flowers. But he knows what he wants, and he wants Ava. It was temporary. She was going back to New York after she finishes her job, and both of them would be back into their own lives.
What he didn't expect, or both of them didn't expect was the explosive chemistry and the sparks that continued to glow between them as they get to know each other better, spending more time with each other in and out of bed.
But no secrets can be kept forever. What happens when Ava's boss finds out? Will what they have be enough to get them through that storm?
I finished reading this book in one sitting, and I enjoyed it thoroughly. I love how their relationship grew, how his family was involved (but not too much meddling), I love the fun of the 'chase', the pleasure of finally giving in and them falling in love.
This reminds me so much of that heartwarming feeling Melissa Foster gave me in her Bradens series. I love the close knit family Layla Hagen created. There was just so much love and fun between the siblings and their parents. I love the Bennetts, and I am looking forward for every story she's about to write for the eight siblings Sebastian has.
My name is Layla Hagen and I am a New Adult Contemporary Romance author.
I fell in love with books when I was nine years old, and my love affair with stories continues even now, many years later.
I write romantic stories and can't wait to share them with the world.
And I drink coffee. Lots of it, in case the photo didn't make it obvious enough