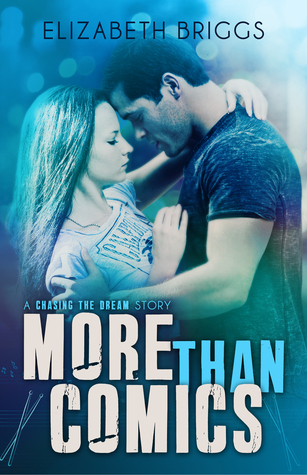 They're friends online - but can they be more in real life?
Writer Tara McFadden has been friends with artist and drummer Hector Fernandez for years, long before his band became famous on reality TV – yet they've never met in person. They finally have a chance to connect offline when they're both sent to Comic-Con to promote the graphic novel they collaborated on.
Hector's secretly been in love with Tara for as long as he can remember, and once they meet, she sees him in a new light. All the years of longing lead to an incredible night of passion after one of his concerts, but neither is sure if their online relationship can translate into a real life romance – or if this will ruin their friendship forever.
Over four crazy days at Comic-Con, Hector and Tara must decide if they want a future together. But when their story seems to be over, it's up to Hector's entire band to make sure he and Tara get their happy ending.
Purchase Link:
OTHER BOOKS IN THE SERIES:
HECTOR
: He's shy. Closed-off and has problems proclaiming his emotions. He might own the drums when he performs on stage or draw amazing illustrations with his hands – but when it comes to girls, he has some reservations. He had been in love with her, even if he had not seen her personally, even if their friendship had started online. It seems he knew everything about her with their nightly chats. One problem though: he doesn't know what to tell her.
TARA
: She has problems of being alone. She has boyfriends more for the sake of companionship rather than love or emotions. She's talented, out-going and beautiful. She liked him – but she had to be realistic. They both live on the separate side of the country – if she gave in to it, would it extend more than just the COMICON?
WHO IN THE WORLD IS THE CHIC HERE?
I don't know if it's adorable or irritating. But Hector's shyness – arghh. He might be uber-hot on stage, and have great talents with his drums and sticks, but when it comes to her, he turns shy. And a little bit putty. I wished that he had the same confidence on stage as he has in front of her.
Well, when he finally had that confidence, he uses it to dig his own grave and says something completely crazy. What in the world are you saying to her???!!!!
Their chemistry is undeniable and overwhelming, they were totally meant for each other if we took all those crazy insecurities they have instilled in themselves. I enjoyed reading this story – I like the romance, the sexy scenes and even the characters that might be a little frustrating and annoying at times, and I thought they'd never see what's in front of them – but the ending was totally worth it.
Love can move mountains, and no matter what the distance, what the differences are – if you are meant to be, there is nothing anyone can do about it.
Elizabeth Briggs is a Young Adult and New Adult author who lives in Los Angeles with her British husband and a bunch of fluffy white rescue dogs. She's a guitar-playing geek who loves books, rock music, and video games, goes to Comic Con every year, and is still hoping to be a Jedi when she grows up.
Elizabeth currently works with WriteGirl to mentor at-risk or pregnant teen girls in writing, to help them get through high school and into college. She also volunteers with Bichon FurKids to help rescued dogs find a new, loving home. She previously worked as an intern for literary agent Jill Corcoran of Jill Corcoran Literary Agency, an intern for Entangled Publishing, and an editor for Curiosity Quills Press.
Elizabeth is represented by Kate Schafer Testerman of KT Literary and is a member of SCBWI and RWA.
*ARC provided via Netgalley*