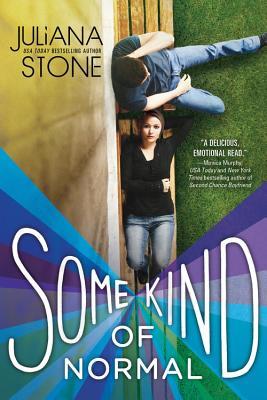 What is Normal?
For Trevor normal was fast guitar licks, catching game-winning passes and partying all night. Until a car accident leaves Trevor with no band, no teammates and no chance of graduating. It's kinda hard to ace your finals when you've been in a coma. The last thing he needs is stuck-up Everly Jenkins as his new tutor—those beautiful blue eyes catching every last flaw.
For Everly normal was a perfect family around the dinner table, playing piano at Sunday service and sunning by the pool. Until she discovers her whole life is a lie. Now the perfect pastor's daughter is hiding a life-changing secret, one that is slowly tearing her family apart. And spending the summer with notorious flirt Trevor Lewis means her darkest secret could be exposed.
Purchase Links:
Normal is overrated.
Normal is when your world is not falling apart.
Normal is when you can still do what you usually do.
Normal is when you watch your family happily eating breakfast and not falling apart.
Normal means no lies, no betrayals, no health problems, just much of the usual.
But nothing is going to be normal for Trevor and Everly. Their world is falling apart, their world is changing, their world is crumbling down, everything is about to fall apart and they can't do anything but to look at it as it crumbles down and pray that they will get out of it alive.
Trevor finally woke up from the coma that was brought about by a car accident, but he was never the same again. He was different, and everyone knew it. He lost his touch with his music, he could no longer play games, and graduating seemed to be so far to reach. It's hard to pass a subject when you miss a lot. What good came out of it was getting close to Everly Jenkins. The perfect pastor's daughter who can't do anything wrong.
Everything is a lie, and Everly was counting the days since she found out the truth. She didn't know how to face her father, how to tell her mother. She didn't know how to act normal, or how to pretend everything is fine. She thought her whole life was perfect, until she got slapped with the truth with her own two eyes. She tries to keep it, but it's hard when Trevor Lewis can see through her. How can she keep her secret? How can she pretend everything is normal when she's about to break?
The timing was perfect of them coming together. It was unexpected – but they were what each other needed. The more time they spent together, the more they knew each other. First impression doesn't always last, when each layer are being torn off daily.
I love the fact that this is told in dual POV. You got to love being inside their brains, it is like being a teenager once again. The author made sure it is as realistic as possible – teens with realistic problems and realistic endings, especially with Everly. It wasn't perfect, but it was hopeful and real and I love it.
I finished this in one sitting. This is something that will catch your attention, will have you hooked in no time.
*ARC REVIEW was given via Netgalley in exchange for an honest review*