This is my second Mini-Reviews Series, and the first one for this year!
*Historical Romance Edition*
I got all these from Netgalley in exchange for an honest review (thank you so much dear authors & publishers!)
Lana & The Laird by Sabrina York (
@sabrina_york
)
LOVE IS A BATTLEFIELD
Lachlan Sinclair cannot escape his accursed heritage in his Highlands homeland. Somewhat resigned to the fate that destroyed his ancestors, he is prepared to live his life without an heir, without a wife―without love. But when he meets the woman of his dreams in the flesh, the bewitching lass makes him want to throw away his cursed, restrained existence…and unleash the highlander within…
Lana Dounreay has only seen the Duke of Caithness in her dreams as a wild, rugged man, while in reality, his life has been cramped by curses and cravats. He may have forgone his kilt and lost his brogue, but Lana knows that the heart of a true Scotsman beats within his broad, muscular chest. But what plans does the mysterious, passionate Lachlan have in mind for her―and can she convince him that love is stronger than all else?
Book 3 in the Untamed Highlanders Series!
[Series Purchase Link:
http://amzn.to/24GJ99o
]
Lachlan believed that like his predecessors, he's cursed. He was prepared to live his life alone, without a wife and heir. He already accepted his fate, until he came across the woman who have haunted his dreams in the flesh.
Lana wanted to prove him wrong. She had seen him in his dreams, and does not believe in the curse that plagued the men of Sinclair. Lachlan might have forgotten what it's like to wear kilts and lost his brogue, but Lana was eager to teach him into becoming a true and real Scotsman.
Lachlan might have underestimated Lana. While he is set not to fall in love with her – Lana is set into making her his. Will she ever convince him to take a chance on her?
To swoon-for romance, amazing characters, sprinkle of heat, mystery of the curse and some dash of paranormal makes this book a great read.
__________________________________
Angel in Scarlet by Lavinia Kent (
@LaviniaKent
)
From the author of Mastering the Marquess comes another blazingly provocative Regency romance! Revenge may be a dish best served cold, but in this clash of wills, lust is a feast for the senses.
After her dreams of wedding bells are dashed by a man she thought had serious intentions, Miss Angela Ripon must be satisfied. She plans to make him burn for her, and then to reject him as he rejected her. There's only one woman who can teach Angela that sort of seduction: Madame Rouge—or Ruby, to the men who frequent her house of pleasure. The infamous madam agrees to help, but only after warning Angela that her target has very specific tastes. To trap her prey, she must shed every last inhibition.
Matthew Harkness, Earl of Colton, doesn't mean to hurt the young admirers who flock to him. He simply isn't interested in women who are too timid for his dark desires. He judged Angela to be like the others—tender, sweet, and innocent. So how to explain the change that has come over her? Matthew aches to teach Angela all he knows of earthly pleasures. But even as she offers the control he craves, perhaps this angelic beauty has a lesson or two to teach him.
Angel in Scarlet is intended for mature audiences. This ebook includes a special message from the editor, as well as an excerpt from another Loveswept title.
Purchase Link:
http://amzn.to/1UMV9Ql
[Series Link:
http://amzn.to/24GKwot
]
It started with a plan of revenge after Matthew Harkness, the Earl of Colton have crushed Angela Ripon's matrimonial dreams. Just as when she thought a proposal was coming, he suddenly wasn't interested in her anymore. So, she decided to take matters into her own hands and get retribution for her pride and broken heart. She seeks the help of Madame Rouge or Ruby to help her in seducing Matthew, making him yearn for her, and then leave him when he was totally want her.
Matthew has dark desires, and there's no room in his life for sweet and innocent girls. He has specific taste, and he thought Angela was too timid for his dark desires. So, imagine his surprise when Angela starts to change – she was bolder now and eager to learn from him. Question is: can she take it?
What started as a revenge, turns out to be something more as Angela discovers not just Matthew other side, but as well as hers. Steamy erotic romance, laced with a classy sexual exploration that will have you gripping your readers in the process.
__________________________________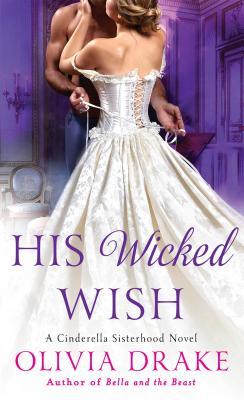 His Wicked Wish by Olivia Drake (
@oliviadrake1
)
MARRIAGE TO A NOBLEMAN? NOT IN HER WILDEST DREAMS. . .
The daughter of a disgraced woman and a common actor, Madelyn Swann has been shunned by the nobility. No proper lady would traipse about on a Covent Garden stage, let alone sell herself at auction to the highest bidder. So why in heaven's name would Nathan Atwood, Viscount Rowley, make a generous offer for her hand?
Turns out Maddy is exactly the type of woman Nathan wants as his wife. Finally, he can embarrass his snobbish and cruel father, the Earl of Gilmore—and scandalize London society—with his beautiful, unsuitable bride. Then he'll depart England forever and leave his wife behind. Having secret plans of her own, Maddy is happy to play the role … only to find that enjoying her husband's seduction requires no acting whatsoever. But as she falls madly in love with Nathan, can she persuade him to stay with her for always?
Purchase Link:
http://amzn.to/24GPOAl
[SERIES LINK:
http://amzn.to/24GPD8c
]
This one had me a little teary-eyed – what started out to be a plan of revenge, turned out to be something more when one starts to fall in-love.
Madelyn Swann is an actress – her father is a common actor, but her mother is a lady who was shunned by her family. She was planning to sell herself at an auction to the highest bidder – thinking about quitting the theater and build a business that would cater to the needs of women. What she didn't expect was the generous offer coming from a stranger – Nathan Atwood, Viscount Rowley.
Nathan wanted nothing to do with his family, but a bad news brought him back to London, and back into his family's home. What better way to embarrass his family than to marry the woman that would scandalize the ton?
But what Nathan doesn't know is that Maddy has her own plans of her own. What happens when secrets come out? What happens when one starts to fall? What happens when their pretend-relationship feels not-pretend at all?
I loved this book, from start to finish, got me totally hooked. I love the romance, the drama, the secrets and the steam.
__________________________________



The Untamed Earl by Valerie Bowman (
@ValerieGBowman
)
AN INDECENT PROPOSAL
Lady Alexandra Hobbs, the daughter of the Duke of Huntley, has intended to marry Lord Owen Monroe since she first glimpsed him from the window of her bedchamber, back when she was just a girl. But the duke has already chosen Alex's infamously spoiled elder sister, Lavinia, for Owen. And now there's no turning back.
Owen has spent most of his bachelor years drinking, gambling, and skirt-chasing. He won't see another pound from his parents, however, until he's engaged to Lavinia. Desperate, he accepts an offer from her innocent and spirited--and absolutely beautiful--sister Alex: She will
turn him into a perfectly tamed suitor, and show him how to woo the shrew. But when Alex's true motives come to light, will their bargain lead to recriminations--or to a romance that defies everyone's expectations?
I thoroughly enjoyed this book. I adore Lady Alexandra, she was easy to love compared to her elder sister Lavinia. Ever since she was young, she decided that he was going to marry Lord Owen Monroe. But her father wanted him for her sister – and she needed to do something about it.
Owen had spent his bachelor days drinking, gambling and womanizing. But his allowance in endandered unless he finds himself engaged to the beautiful Lady Lavinia. He's desperate enough to accept 'help' coming from the perfectly innocent, beautiful and spirited younger sister, Lady Alexandra. She was giving him lessons to woo her sister.
But what happens when he finds himself enamored of the younger sister?
The development of both characters are really admirable, you'd see them grow within the pages, watch them not just fall in love, but watching their characters mature. It was a fun and exciting ride that kept me awake in the wee hours of the morning.
Rating:
4.5 Stars