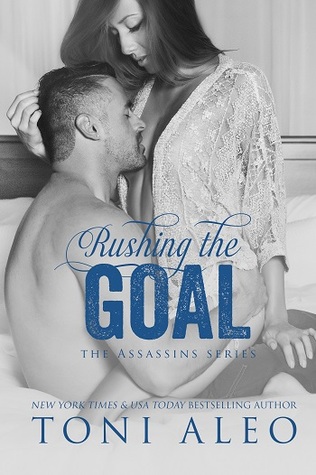 Introduced in Toni Aleo's Bellevue Bullies Series, it's the Sinclair brothers' big sister's turn to find love in the next installment of the New York Times and USA Today best-selling series, the Assassins.
Lucy Sinclair was no stranger to pain.
She grew up with three younger brothers, met a bad boy, got pregnant by him, married him, and then suffered through a nasty divorce from him. Pain. That was pain. To top it off, she even had to go through the heartbreaking divorce of her parents. Through it all, she survived. All she cared about was making sure her daughter was happy and taken care of. Despite an ex-husband hell-bent on ruining her life, she fought to overcome. She's gotten to the point that she's okay with being just okay. She never cared about herself because she never had the time. It was Angie and only Angie she focused on, but that all changed when Benji Paxton offered to help her daughter on the ice.
Benji knew the moment he saw Lucy, he'd never be the same. Especially when she came with the bundle of crazy that was her daughter. His heart wasn't ready for them. After years spent sobering up and finding who he was without the alcohol, he never forgot he was being punished for not appreciating the love he had when he was younger. Because of his past, he had gotten used to being alone, a recluse, but even he had to admit it was getting old. He was lonely. Hockey wasn't enough anymore. He wanted a family; he wanted his true love.
And Lucy and Angie were just that.
They were just two lost souls.
Floating through life with no purpose.
But finding each other gave them direction, a chance at a future.
And had them both Rushing the Goal to be together.
Purchase Link:
http://amzn.to/1Rig4uh
"Cause it's what I do. I rush the goal to score. You are the ultimate goal, and I want to score."



Assassins Series Meets Bellevue Bullies Series – oh yes, after the Sinclair boys get their happy ending, including Mommy Sinclair, it was time for Lucy Sinclair to finally have her happy ending.
We knew Lucy Sinclair from Bellevue Bullies Series, she has her moments, but we all know she's a great mother to her daughter, Angie. She'd do anything for her, including forgetting herself, her happiness just to provide the best possible care for her child. I love Lucy as a mother – she's wonderful. She can be a little bit b**chy, she can be irritating, really, really frustrating and yes, she can eat a person alive too. She's brave, amazing, and strong. She should be because her ex-husband makes sure her life is always miserable.
As for Benji, he has a past he wasn't proud of, but he trying to make up with his past mistakes. He was a lonely person and loves his solitude – until he set his eyes on Lucy and her little girl. He's sweet, charming, he can be funny too. He's just perfect! You read his thoughts, you read about what he does to our girls, and you'll tell yourself – I want someone like him. He might have some dark past, but he was a changed man. And he was doing everything, proving his worth, not just to the girls but to himself as well. I love that he fights to death for what he wants, he was persuasive and determined, but at the same time he was never too pushy. Indeed, he's someone every girl is dreaming of having.
I love the complexity of the characters and their past. I think they won't be who they are right now if not for their gloomy past. It had built them up and made them a better people. As the synopsis says, they are lost souls, until they found each other.
It wasn't easy, especially with Lucy. But the moment Benji was sure she was the one for him, he didn't let go: despite of her ex-husband, despite the fact that Lucy can be difficult at times. Benji was always there for her, and Angie. He'd move heaven and earth for them.
And don't get me started with Rick. Argh. I wanted to strangle him, like the whole time: from the start to the end of the novel. He made me, and everyone in the book miserable, and sometimes, scared. What kind of father is he? He doesn't deserve Angie.
And there were moments when Daddy Sinclair redeems himself too. I hated him in the Bellevue Bullies Series, but here, I can't believe myself for saying this: but I sort of love him. What he did, and what he was trying to do not just for Lucy but for the rest of his family as well. He was one of the biggest surprise here.
And of course, the Sinclair brothers and the love of their lives makes appearance here too, which makes everything complete. I enjoyed the banters between siblings, as always. And the fact that Lucy may be their eldest, but they still look after her.
Toni Aleo had me swooning, screaming, shouting, panting, crying and laughing every single time, and this book was no exception. It has the perfect amount of drama, steam, romance and heartwarming moments. It was an intense rollercoaster ride that had me captivated, and on the edge of my seat for hours since it arrived on my Kindle.
"You are my slice of heaven, Lucy, and the thought of not having you is what terrifies me."