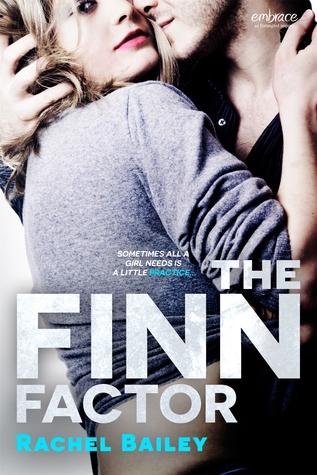 A new adult romance from Entangled's Embrace imprint...
Sometimes all a girl needs is a little practice...
It's been twelve months, three days, and eleven hours since accounting student Scarlett Logan made it past a second date. A pitcher of mojitos in hand, she employs her supreme graphing skills to narrow things down to one horrifying explanation. Kissing. Clearly someone needs to teach her how to kiss properly. Like, say, her best friend and roomie, Finn Mackenzie. He's safe, he's convenient, and yeah, maybe just a little gorgeous.
Finn knows exactly why Scarlett's boyfriends are disappearing quickly. Him. Not a single guy she's brought home is nearly good enough. And he'll be damned if he lets some loser give her "kissing lessons." No. He'll do the honors, thank you very much. The moment their lips touch, though, everything turns upside down. But Scarlett deserves the one thing Finn can't give her. And if he doesn't put an end to the sexy little shenanigans, he'll teach Scarlett the hardest lesson of all...heartbreak.
Purchase Link:
"Because I wanted to be the one to touch you." Another step, and he gently pressed me back against the wall with his body along mine. "Because I'm the one that can barely sleep at night, knowing you're just down the hall. In your bed. Practically naked."
It has been a while since Scarlett Logan made it past the second date with men, and she was determined to know what went wrong. After several graphs and analyzing it intensively, she formed a hypothesis that maybe she haven't passed a second date because she was a bad kisser! She decided that one way to get out of this drought is to get kissing lesson from her best friend, and roomie: Finn Mackenzie.
Unknown to Scarlett, Finn was the reason she couldn't have a second date. He's been secretly chasing off her dates ever since she came to live with him. He thinks no guy is good enough for his friend, and when she told him of her plans: he'd be damned before he allow her to get those kissing lessons elsewhere. So, he offered himself and his world turned upside down.
Finn was a great character, being projected as a caring, responsible older brother who acted as guardian to his two younger sisters. Scarlett is pretty amazing too: she's sweet and patient and does not think twice about lending a hand with Finn when it comes to his sisters. I think that's why they were perfect for each other.
I love how the story goes, their journey from friends-lovers was indeed a delight – couple it up with his sisters and her parents, not to mention an adorable dog makes this one a really enjoyable read.
If you want to read something that is fun, sweet and easy on the heart – this one is your book! And ordinary plot of two best friends falling in love add in an extra nerdy and sexy twist in between.
The Scarlett Factor is that you are worth any risk. In fact, I vote we forget your charts and graphs. I have a formula you might be interested in testing with me. You plus me equals happiness.
Rating:
Characters - 4.5
Plot - 4.5
Steam - 4
Cover - 4
Romance - 4.5
Pacing - 4
Overall: 4.25