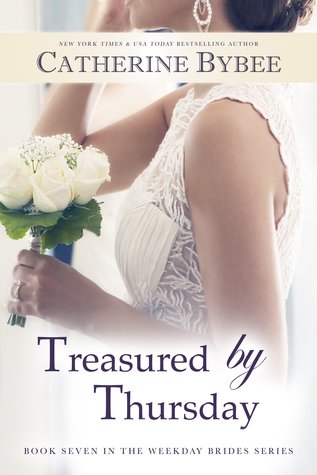 The seventh and final tale in the dazzling, heartwarming, pulse-racing Weekday Brides series.
Gabriella Masini: She's a woman haunted by her past, with the scars to prove it. She believes that fairy tales are for other people. An elite matchmaker at Alliance, she's great at crunching numbers, but something doesn't add up with her latest prospective client: a billionaire bad boy with his own secrets. When Gabi refuses to be his temporary wife, Hunter forces her hand with an offer she can't refuse. But marriage to a man like that could never last…or could it?
Hunter Blackwell: Only his bank account is bigger than his ruthless ability to obtain anything he wants. These days, he has a secret reason to settle down, at least for a while—and he thinks the sensual and sassy Gabi will fit the bill perfectly. But when their marriage of convenience becomes downright dangerous, Hunter must decide how far to take his vow to honor and protect Gabi forever.
Purchase Link:
_______________________________________________
I have been waiting for Gabriella Masini's story ever since I have finished the previous book in the series. She did not deserve what happened to her, how those people have used her, and how she was left scarred and haunted by the people she trust. Now, she was trying to live on her own, off the island. Gabriella is now with the Alliance, and she was great with numbers. But when she came across Hunter Blackwell, something doesn't add up.
Hunter Blackwell NEEDS a wife, and he needs it now. It doesn't matter how he gets it. So when his application was declined, he used an option meant for desperate people. He forced Gabi's hand with an offer she can't refuse. But she fits his needs perfectly – now if he can only separate the growing feelings he has for Gabi.
Both of them have a problem with trust due to their painful past. His life is filled with secrets: his past and his present. What happens when it goes out in the open? Would he be brave enough to come clean with Gabi? Or will his secret drove them apart?
The attraction was potent, but the emotions grew, and you can feel it. The characters might have underwent denial first, they might not notice it – but it was there, and watching them uncover their feelings, fighting against it, fighting for it was pretty much excruciating as it was amazing.
The perfect mix of romance, steam, mystery and thrill makes Treasured by Tuesday an enticing, memorable read. Catherine Bybee wows me once again with the rollercoaster of events, twists and emotions. The danger kept me on the edge of my seat, and the steam? Enough to set your Kindles on fire! Indeed, what a way to end the series. Certainly, she saved the best for last.
Purchase Link:
New York Times & USA Today bestselling author Catherine Bybee was raised in Washington State, but after graduating high school, she moved to Southern California in hopes of becoming a movie star. After growing bored with waiting tables, she returned to school and became a registered nurse, spending most of her career in urban emergency rooms. She now writes full-time and has penned the Weekday Brides Series and the Not Quite Series. Bybee lives with her husband and two teenage sons in Southern California.
catherinebybee.blogspot.com
twitter.com/catherinebybee