Purchase Link: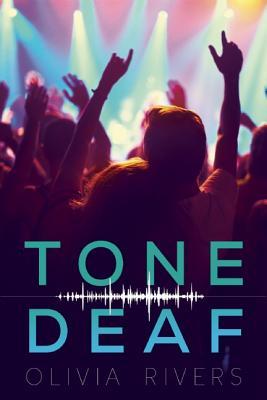 His world is music. Her world is silent.
Ali Collins was a child prodigy destined to become one of the greatest musicians of the twenty-first century—until she was diagnosed with a life-changing brain tumor. Now, at seventeen, Ali lives in a soundless world where she gets by with American Sign Language and lip-reading. She's a constant disappointment to her father, a retired cop fighting his own demons, and the bruises are getting harder to hide.
When Ali accidentally wins a backstage tour with the chart-topping band Tone Deaf, she's swept back into the world of music. Jace Beckett, the nineteen-year-old lead singer of the band, has a reputation. He's a jerk and a player, and Ali wants nothing to do with him. But there's more to Jace than the tabloids let on. When Jace notices Ali's bruises and offers to help her escape to New York, Ali can't turn down the chance at freedom and a fresh start. Soon she's traveling cross-country, hidden away in Jace's RV as the band finishes their nationwide tour. With the help of Jace, Ali sets out to reboot her life and rediscover the music she once loved.
Purchase Link:
Amazon -
http://amzn.to/1ShJwBa
B&N -
http://bit.ly/1Scvc9V
IndieBound -
http://bit.ly/1VYZQ9n
Book Depository -
http://bit.ly/263hnSz
Books-A-Million -
http://bit.ly/1qUQIaE
Ali is a darling. She might have lost her dreams of performing music the moment she lost her hearing – but it didn't stop her from living her life. She adapted, and tried her best to live a normal life, thanks to lip reading and ASL (American Sign Language). The only problem lies at home, with her father who's also fighting his down nightmares, and the bruises tends to show already. She could no longer hide them. Only a few months more before she turns 18, and then she could run away. But she promised herself, once an opportunity presented, she'd grab it, close her eyes, and just run.
Jace Beckett has his own demons, and looking at Ali makes him feel like looking at his past, and making him relieve the nightmare all over again. And he might have the reputation of being a jerk, but he also couldn't help but offered Ali help when he saw the bruises on her arms. This was the other side of him that surprised me. There was more to Jace than he lets on – he can be sweet and considerate and thoughtful.
Ali will soon to discover that her road to escape would be the ultimate ride and adventure of her life. But what happens when she gets caught?
I like the characters, and even the secondary ones, most especially Killer and Cuddles. OMG, you'd adore them both in a 100-different ways. They made Ali's stay in Jace's RV more bearable.
This book totally rocks, right from the start down to the very last note, I mean page. It was emotional, sweet, sensitive and clean. The characters gets out from the usual stereotype you read on novels. The bad boy rock star and the good girl – well, they somehow fit in to the description, but Ali and Jace are way more complex than that. This was my first Olivia Rivers novel, and certainly won't be my last. She brought me to a world of diversity that has opened my eyes and ears to a whole lot of issues, way more than Ali's special needs.
Rating:
4.5 Stars
The vibrations of the crowd die down a little, and Jace repeats, "Ladies and gentlemen! Thank you for coming tonight and helping to kick off Tone Deaf's summer tour."
More cheers. More crazy jumping and blown kisses.
"Tonight a special fan will receive a special prize," Jace says. "Tone Deaf is giving away a backstage tour, so one of you can come meet us right after the concert." The subtitles are quickly replaced with a tiny legal disclaimer, and even though the text is too small to bother reading it all, I get the gist of it—crazy fans can win a half-hour meet-and-greet with the band, but the tour is of the stage and not anything in Jace's pants. Then Jace announces, "Everyone in the audience has received a wristband with a raffle code on it," as if every girl wasn't already aware of this.
I stare down at my own band: A632D9. I wanted to rip it off as soon as the ticket guy at the entrance put it on, but Avery had started freaking out, signing frantically that the code was defunct if I took off the wristband. I kept it on, just to please her, but not before arguing back a little.
"In ten seconds, the winning code will appear on the main screen," says Jace. He points upwards, and all eyes turn to the huge LCD screen I'm already staring at. A large "10" appears on the screen, quickly followed by a "9," then an "8."
A chant goes up in the crowd, and whatever else Jace wanted to say is drowned out as the concertgoers count down. At the "1," a roar of sound hits me, even more powerful than before. I clutch my arms to my chest and turn to the side, trying to ward off the sensations.
Something slams into my shoulder, and I yelp, glaring at Avery. She excitedly clings to my arm as she jumps up and down, and a huge, shocked grin spreads across her face.
Which can only mean one thing.
"You won?" I scream, hoping I'm loud enough to be heard over the crowd.
"Ali!" she shrieks. "Ali! It happened! Oh my god, I told you it'd happen!"
A bubble of excitement rises in my chest as I watch her smile grow even wider. Avery babbles a long string of words, but no amount of lip-reading skill could help me interpret what she's saying. Then she points eagerly toward the screen, and I turn, grinning as I read the code. I have Avery's code memorized; she'd been chanting it like a good-luck charm before the concert started, drawing out all the O's like she was practicing for a kiss.
My grin falls from my face. I blink, hoping I'm seeing things wrong. But every time I blink, the screen just grows clearer.
It's not Avery's code. Not even close. Instead, the bright screen proudly displays: A632D9
Well, shit. I just won myself a date with a rock star.
Olivia Rivers
is a hybrid author of Young Adult fiction. Her works include the independently published "Tortured Elements" and "Duplicity" series, along with the traditionally published novel "Tone Deaf" (Skyhorse 2016.) As a certified geek, she enjoys experimenting with new publishing technologies, and her online serials have received over 1,000,000 hits on Wattpad.com. When Olivia isn't working as a writer, she's a typical teen attending college in Northern California. Olivia is represented by Laurie McLean of Fuse Literary, and nothing thrills her more than hearing from readers.
a Rafflecopter giveaway