Purchase Wicked Fall:
B&N: TO BE POSTED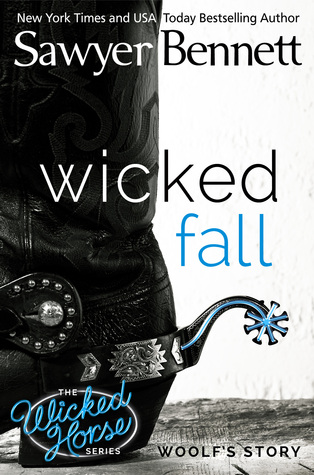 Never in your wildest dreams could you begin to imagine all the filthy and depraved things that go on inside The Wicked Horse. Step inside and Woolf Jennings will make every one of your dirty fantasies come true.
He's covered in a facade of deception. An enticing blend of multi-millionaire and hot-as-hell Wyoming rancher, those that think they know Woolf Jennings admire his abilities to preside as CEO of his family's cattle and oil empire. But only a privileged few truly understand what fuels the glitter of depravity in those gorgeous blue eyes. Only a few know he's opened up a sinfully erotic and private sex club named The Wicked Horse right at the base of the beautiful Teton Mountain range.
Sweet Callie Hayes has returned home to Wyoming and is looking forward to starting her life over again. After a night of impetuosity, she's managed to put herself right in Woolf's line of sight… the man who she foolishly offered up her virginity to years ago and was flatly turned down.
Now Woolf is seeing that Callie is all grown up and has a kinky side to her that leaves him as confused as it does turned on. Worse yet, both Callie's dirty desires and sweet heart are getting under his skin, and making Woolf question everything he's ever believed about himself.
#SaveaHorseRideaCowboy
This was far different, and yet equally scorching from hockey players in the Cold Fury series. Woolf would easily seduce you, and you have really no choice but to fall into his clutches – because, hey, who wouldn't swoon to a hot multi-millionaire and Wyoming rancher who owns a sex club and likes a little kink?
Wicked Horse
is where you make your fantasies come true, but can Woolf allow Callie to enter his depraved world?
Callie offered her youngself to Woolf, but then he refused her. She was his bestfriend's younger sister and way too young and innocent for him and his wants. It broke Callie's heart.
Now Callie was back, older, sexier and she knows better. She was trying to change some things about herself. Would she finally be enough for Woolf?
Even in the past, there was already a brewing chemistry between the two, and it just ignites as the years past. They were a bomb waiting for explosion. I can't help but love the chemistry between these two. They were just hot together, and the steamy scenes were just off the charts! I like the kinks and the lighter version of BDSM – definitely for readers who aren't into BDSM, but love some kinks in the story.
More than just the chemistry and lust that is mighty strong between these two, there is also that heart-melting romance that grew. And just like any other love story, something happened. But I was mighty glad Woolf (with the help of Bridger) came into his senses and got his head out of his a**.
Let us not forget the secondary characters who are just as important as Woolf and Callie. One of my favorites will always be Bridger – he's a great friend, and just as hot as our rancher. His past had piqued my curiosity, and I want to know more about him!!!
Ms. Bennett was kind enough to offer us a jaw-dropping epilogue that had me panting for more for the next one in the series. I was expecting someone else, but from the looks of it – we are in for something really, really good.
Just like any Bennett Books, you can't help but fall in love with this one. Because aside from that hyperventilating scenes that can make you wet, this book is fun and light and kinky and not to mention has a whole lot of heart. It's a great book to start the series, and I'm sure like me, her readers would ask for more cowboys!!
Purchase Link:
AMAZON -
http://amzn.to/1HCrf9k
New York Times and USA Today Bestselling Author, Sawyer Bennett is a snarky southern woman and reformed trial lawyer who decided to finally start putting on paper all of the stories that were floating in her head. Her husband works for a Fortune 100 company which lets him fly all over the world while she stays at home with their daughter and three big, furry dogs who hog the bed. Sawyer would like to report she doesn't have many weaknesses but can be bribed with a nominal amount of milk chocolate.
Sawyer is the author of several contemporary romances including the popular Off Series, the Legal Affairs Series and the Last Call Series.